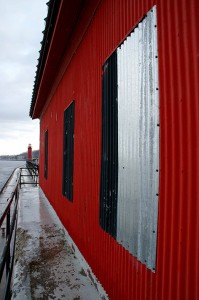 Landmark Overhauls Start Soon
Alex Doty, Grand Haven
Apr 11, 2013
Work is set to commence on two of Grand Haven's most iconic images — the south pier lighthouses.
Grand Haven City Council recently approved spending $259,577 to paint the two structures inside and out.  The money isn't from the city's coffers. It was raised by the Grand Haven Lighthouse Conservancy.
According to the conservancy's latest figures, more than $400,000 has been raised to help preserve the lighthouses. Campaign efforts included brick sales, fun runs, T-shirt sales and streetlight post banner sales.
The painting project is the first major work since the city took ownership of the lighthouses.
"The lighthouses have been here a long time, and this has to be done sooner or later," Councilman Mike Fritz said of the project. "People have donated a lot of money and they expect to have stuff done."
City Council was unanimous in saying it was OK to put up with a summer's worth of inconvenience in order to ensure that the lighthouses are in good condition for the future.