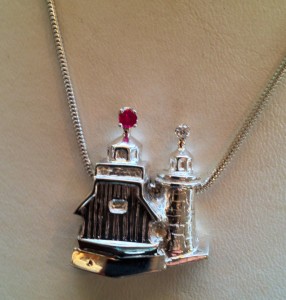 "Pier Project" Lighthouse Pendant Sculpture
Help support the "Keep the Lights On" campaign by purchasing a "Pier Project" pendant.
These individually handcrafted pendants of the Grand Haven pier lights are cast in sterling silver with ruby and diamond beacons.   They will serve as a beloved keepsake for years to come.  Created by local jeweler, Carrie Marie Frifeldt.
Grand Haven pendants are $425 with $50 of that amount being donated to the Lighthouse Conservancy.
The hand signed, numbered series is dedicated to those who  have lost their lives on the pier.
Pendants are on display and for sale at J. Morgan Jewelers, 119 Washington Avenue, Grand Haven, MI 49417 – 616.842.9300.
For more information contact the artist:  Carrie Marie Frifeldt, P.O. Box 965, Grand Haven, MI 49417 – 616.402.9207 or carrief@chadko.net.